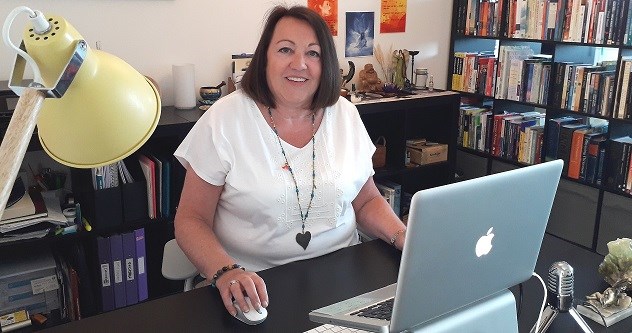 Checking broadband availability was the last thing on businesswoman, Linda Gemmil's mind when she moved into her flat in Bradwell-on-Sea last September. It was only when she started working on the launch of her new business, Spiritual Hearth that she realised there was a problem.
Linda, who works with clients across the world as a Transformational Life Coach, Spiritual Mentor and Energy Healer, said: "Internet is the life support system of my business. I'd be in a video call with a client and it would keep dropping out."
With all aspects of her business fulfilled online and speeds of 7 Mbps slowing work down, Linda started researching other options to access faster broadband. When browsing a local Facebook group, she happened upon Superfast Essex being mentioned in relation to broadband. A short browse and quick Facebook message later, Superfast Essex replied and escalated Linda's enquiry to Openreach.
The property Linda lives in wasn't planned to be upgraded with faster broadband, but as other flats in the building were already able to access a full fibre service this meant that the infrastructure was already there and it was just a simple case of connecting Linda's flat to the network.
"I would highly recommend getting in touch with Superfast Essex - within a couple of weeks of contacting them, Openreach connected me to full fibre broadband. I have gone from 7 Mbps to over 70 Mbps, this would not have been possible without the intervention of Superfast Essex," Linda said.
From creating e-newletters with Mailchimp to online accounting with Quick Books, Linda's business has taken a leap into the future. Buffering during video calls no longer occurs and clients can enjoy an uninterrupted connection thanks to her new superfast speeds. Linda is also able to enjoy some downtime and can now stream her favourite films and box sets on Amazon Prime with no interruptions!
When asked what she would say to anyone else considering taking up fibre broadband, Linda said: "If a reliable connection is important to you, then superfast fibre will give you that. It's the equivalent of swapping your 20 year-old family saloon for a brand new Tesla - ultra smooth and fast!"
If you're a business or resident moving home or into a new business premises or struggling with your broadband speeds, like Linda was, remember to check if superfast broadband is available or check if your address is in plans to be upgraded to superfast speeds using the Superfast Essex rollout map: www.superfastessex.org/maps.
If your property is not yet in the programme's plans, you can register your demand for faster broadband and sign up to receive our Quarterly Programme Update at: www.superfastessex.org/registerdemand.