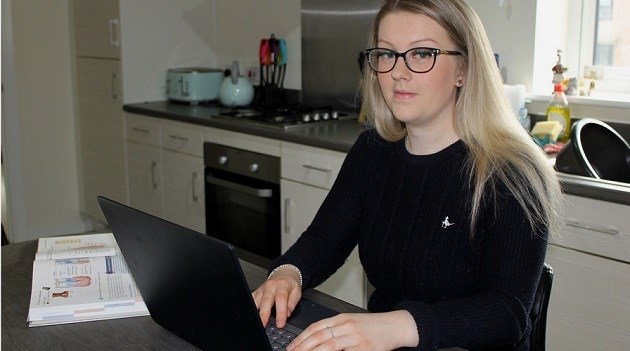 After moving into a new build property, Pascalle Mickelsen didn't dream that she'd have to leave the comfort of her own home in order to access satisfactory internet speeds. The slow speeds, which were sometimes as low as 1.5Mbps were holding her up and making studying for her nursing degree impossible. 
"It was such a shock to move into an 18-month old property and for it to not have fast internet. It's something you just don't think about when you're looking for somewhere to live," said Pascalle.
Wasting time travelling to the library or her parent's house just to use the internet was getting frustrating and with providers unable to offer a better speed, Pascalle decided to look into other options. Her Dad, Peter mentioned that he'd heard about Superfast Essex so on behalf of his daughter he got on the case!
The property Pascalle lives in wasn't due to be upgraded by the Superfast Essex programme - because it was part of a new development and not eligible for public investment. However, Superfast Essex was able to assist with passing the enquiries onto Openreach to get the situation resolved and fibre broadband installed by Openreach's New Sites team so that Pascalle was able to upgrade to a superfast broadband service.
"Getting fibre has changed my life dramatically, because everything I use the internet for takes less time now. I used to drive 20 minutes to my parents' house to do my coursework before and now everything is easier because I can do it at home," said Pascalle.
Driving for 20 minutes to access the internet is a thing of the past for Pascalle, whose new speed of 45 Mbps means she can access online University forums and emails from the comfort of her own home. As well as accessing websites for studying, she is now able to enjoy the other advantages that come with having superfast broadband. Now her partner can use the Wi-Fi on his phone to get online, and she is able to stream her favourite Netflix shows at the same time, which her old 1.5Mbps speed just wouldn't have allowed before.
"It's amazing how a change in internet speed can make what seems like everything easier!"
When asked if she would encourage anyone else to enquire about superfast broadband, Pascalle said: "If your provider isn't very helpful or you don't know where to go next then I would 100% recommended talking to Superfast Essex. They are very informative and can advise you where to go or who to talk to. They have been a great middle man, both my Dad and I found the whole experience really positive!"
If you're a business or resident struggling with your broadband speeds, like Pascalle was, check if you're in plans to be upgraded to superfast speeds using the Superfast Essex rollout map: www.superfastessex.org/maps.
If your property is not yet in the programme's plans, you can register your demand for faster broadband and sign up to receive our Quarterly Programme Update at: www.superfastessex.org/registerdemand.